September 15, 2020
Elixir v1.11.0-rc.0 has been released. Link: https://github.com/elixir-lang/elixir/releases/tag/v1.11.0-rc.0
HOT IN Elixir THIS WEEK!
Why, if your answer is yes?
HOT IN Elixir THIS MONTH!

Let's get real. As in really knowing—clearly and practically—what's up with Phoenix LiveView. What is it? How does it work? What can I ...

Currently a hot topic in the BEAM world, let's start a thread for it (as suggested by @crowdhailer here) What are your current thought...
Following on an old discussion I started on Elixir Forum here, I finally made my mind to learn Ruby on Rails in addition to Elixir/Phoen...

Elixir's straightforward syntax and this guided tour give you a clean, simple path to learn modern functional programming techniques....

The library to deal with the time slot series. Documentation. Blog post.

I made a screencast exploring how to use Phx.Gen.Auth to handle authentication.
Elixir v1.10.4 has been released. Link: https://github.com/elixir-lang/elixir/releases/tag/v1.10.4
Elixir v1.11.0-rc.0 has been released. Link: https://github.com/elixir-lang/elixir/releases/tag/v1.11.0-rc.0
HOT IN Elixir THIS YEAR!

Write Elixir tests that you can be proud of. Dive into Elixir's test philosophy and gain mastery over the terminology and concepts that u...
Elixir version 1.10.3 has been released on Apr 25, 2020. See the release announcement. This release officially supports Erlang/OTP versi...

Lots of cool stuff in this release! This release brings a number of exciting features, including integration with the new Phoenix LiveD...

"In other courses, I just learned how to use Phoenix, GenServer, and Supervisor like magic. Here I learned the foundations, how those com...

Hi there everyone! Recently, I have fallen in love with programming with Elixir and have been having so much fun with it. I have been do...

Real-time applications come with real challenges—persistent connections, multi-server deployment, and strict performance requirements are...
Hi, I'm about to buy a MacBook 2019 model. I use mostly Elixir in my development. Should I go for this MacBook? or should I consider a L...

I picked up Metaprogramming Elixir with the intent of reading it at a later time, once I had a bit more exposure and experience with Elix...

Don't accept the compromise between fast and beautiful: you can have it all. Phoenix creator Chris McCord, Elixir creator José Valim, and...

Elixir and OTP provide exceptional tools to build rock-solid back-end applications that scale. Build a web application in a radically dif...

Author Antonio Cangiano (Technical Blogging) @antonio has a review out of the Elixir /OTP course from The Pragmatic Studio. Has anyone e...

Chris McCord edited by Jacquelyn Carter @jkcarter Metaprogramming is one of Elixir's greatest features. Maybe you've played with the bas...

Blogged on how to solve Lewis Carroll's favorite puzzle by using asynchronous lazily infinite traversal of a branched state graph. https...

Your domain is rich and interconnected, and your API should be, too. Upgrade your web API to GraphQL, using flexible queries to empower y...
Hi again, this time I blogged about creating a development environment for elixir using Docker (post in Spanish)

Is your current programming language ready for tomorrow? Elixir is. Elixir is a modern, functional language built on the Erlang VM. D...

You know how to code in Elixir; now learn to think in it. Design libraries with intelligent layers that shape the right data structures, ...
Greetings from Membrane Framework team! Check out our case study based on our latest projects at Software Mansion. https://blog.swmansi...
Hey all, I blogged about using pattern matching to replace conditional checks (post in Spanish)

Property-based testing helps you create better, more solid tests with little code. Use the PropEr framework in both Erlang and Elixir, to...
Elixir
Classification:
Programming Language
"Elixir is a dynamic, functional language designed for building scalable and maintainable applications."
Elixir on GitHub
Stars: 17,409 Watchers: 730 Open Issues: 13 Last push: 1 day ago
Featured Elixir Book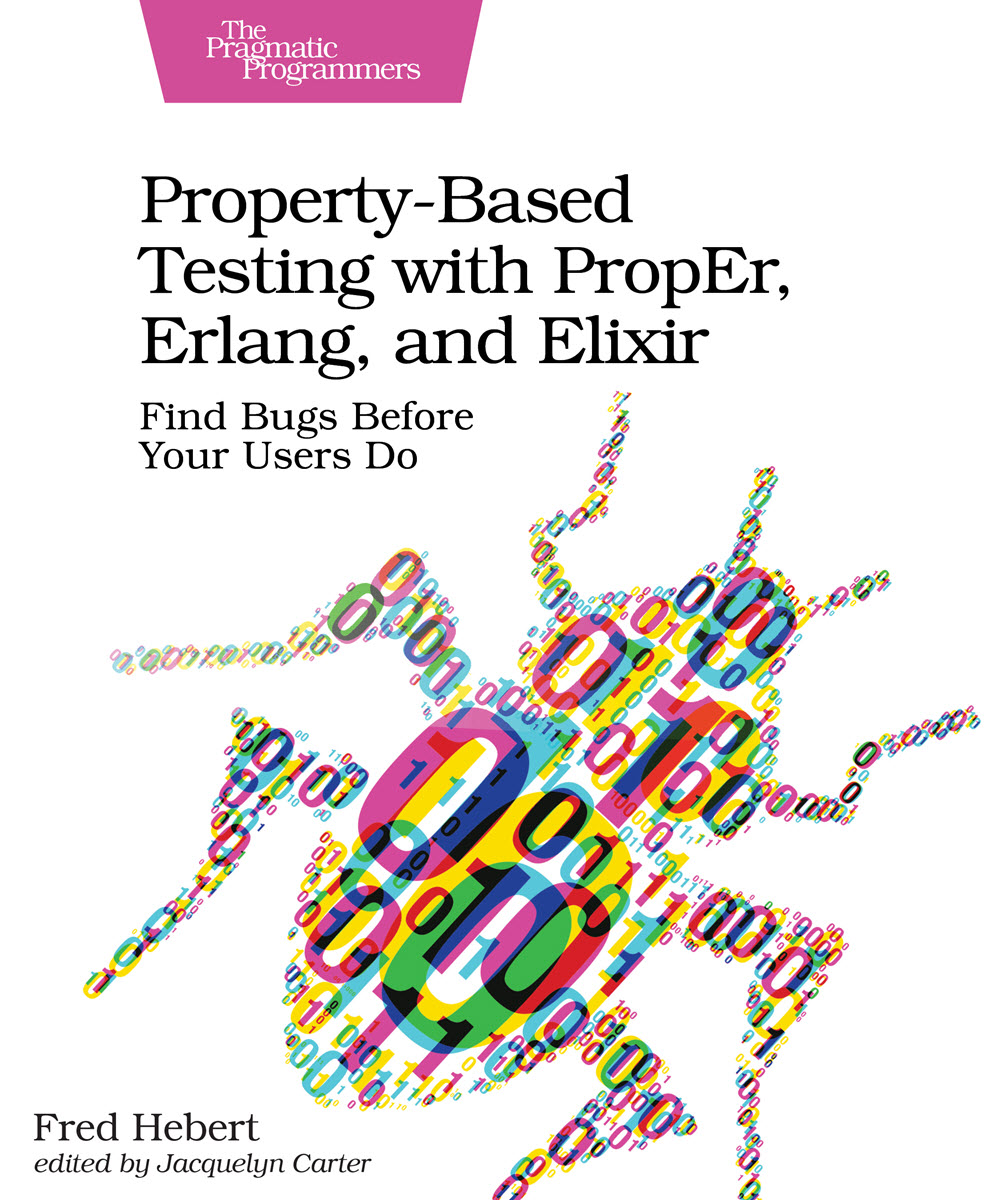 Latest Elixir Learning Resources
Backend Learning Resources
Backend Learning Resources
Backend Learning Resources
Backend Learning Resources
Frontend Learning Resources
General Learning Resources
Backend Learning Resources
Latest Threads
Elixir Events (WIP)
64 days remaining
Las Vegas
June 13, 2020
183 days remaining
Rio de Janeiro
October 15, 2020
289 days remaining
Chicago
Feb 25, 2021
Get money off!
The Pragmatic Bookshelf
35% off any eBook
Manning Publications
35% off any item
AppSignal
10% off your first year
The Pragmatic Studio
20% off any course
Simply use coupon code "devtalk.com" at checkout. Where applicable this coupon can be used for an many items and as many times as you like! See the full details here.
Devtalk Sponsors